Antique Woolson Spice Trade Card Sleeping Santa in Green Suit - Christmas
Welcome! If you're new to Flashback Alley....
You can find some of my shop items offered elsewhere (such as Etsy and eBay).
But my best prices are right here on Flashback Alley.
And, as an added BONUS ....
Preferred Customer subscribers receive a discount on each and every order!
Oh so charming, this Woolson Spice trade card shows a sleeping Santa, dressed in brown boots and a green suit, his red bag now empty, the presents delivered. Hovered around him are five young girls, delighted and intrigued by their discovery, with one daring girl tapping Santa's cap with a pointed bough of Christmas holly.
With a landscape orientation, this card is in very good condition, with a crease in the upper right-hand corner; a short tear in the bottom edge, to the right; and a subtle rounding at the bottom left corner.
The back of the card show some paper loss and glue residue, amidst the advertisement for Lion Coffee, stating 'These beautiful Christmas Greetings are to be had only in the one pound packages of Lion Coffee between Oct. 15th and Christmas Day,' listing Woolson Spice Co. as Manufacturers.
This Item Ships for FREE!
Proud member of the Your Vintage Friends community!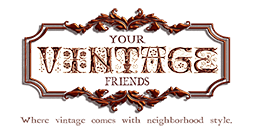 I strive to be:
* Thorough in reviewing condition
* Competitive in pricing
* Fair with shipping costs
Have any questions or concerns? Message me here!
Tags: 1890s, Antiques, Christmas, Lithography, Santa, Woolson Spice
Customer Reviews
I received my mugs today and I could not be happier. Packaged with great care, lovely card to say thank you, and all intact. They are better than expected, with the size I really wanted, thinner rim for sipping coffee and hot chocolate. I really have a thing for pottery mugs and these are great quality and wonderful drip glaze. Flashback Alley owner Holly is wonderful to work with, great communication, extra service all along. Thank you again! I love them.
- Shelly (11-08-18)
Seller was very nice and helped me through the registration and purchase process. Love the product and arrived quickly. Thank you!
- Sharon DeQuasie (08-29-18)
The packages of Royal Doulton tea cups and dinner plates arrived in perfect condition. I could not be happier with the merchandise. Holly is personable and cares about the quality of the product as well as the packaging. Holly is a pleasure to work with and I will be shopping at Flashback Alley in the future. I'm so glad I found Flashback Alley!
- Susan (08-22-18)