Unopened Hallmark Santa Press-On Christmas Package Seal Trims and Tags
An unopened package of four sheets of Hallmark press-on / stick on seal trims with tags depicting Santa with his rosy red cheeks full of delight over the bag full of Christmas gifts carried in his back. A separate smaller sticker depicts a pile of three Christmas gifts, also accompanied by a small square stick-on name tag.
For size reference, the Santa press-on sticker is approx. 4-1/2 inch high.
Product number is marked as 29XS 70-1. Given the $0.29 original price, these likely dates to the 1970s, possibly a bit later.
NOTE: You'll find other vintage wrapping paper, trim, and gift cards
here
.
This Item Ships for FREE!
Brand: Hallmark
Product Code:

03294

Availability:

1
Proud member of the Your Vintage Friends community!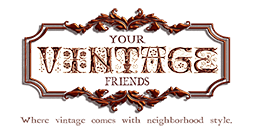 I strive to be:
* Thorough in reviewing condition
* Competitive in pricing
* Fair with shipping costs
Have any questions or concerns? Message me here!
Tags: 1970s, Christmas, Hallmark, Santa
Customer Reviews
I received my mugs today and I could not be happier. Packaged with great care, lovely card to say thank you, and all intact. They are better than expected, with the size I really wanted, thinner rim for sipping coffee and hot chocolate. I really have a thing for pottery mugs and these are great quality and wonderful drip glaze. Flashback Alley owner Holly is wonderful to work with, great communication, extra service all along. Thank you again! I love them.
- Shelly (11-08-18)
Seller was very nice and helped me through the registration and purchase process. Love the product and arrived quickly. Thank you!
- Sharon DeQuasie (08-29-18)
The packages of Royal Doulton tea cups and dinner plates arrived in perfect condition. I could not be happier with the merchandise. Holly is personable and cares about the quality of the product as well as the packaging. Holly is a pleasure to work with and I will be shopping at Flashback Alley in the future. I'm so glad I found Flashback Alley!
- Susan (08-22-18)