Lot 3 Antique Glass Medicine Bottles Burnett Boston & National Remedy
Welcome! If you're new to Flashback Alley....
You can find some of my shop items offered elsewhere (such as Etsy and eBay).
But my best prices are right here on Flashback Alley.
And, as an added BONUS ....
Preferred Customer subscribers receive a discount on each and every order!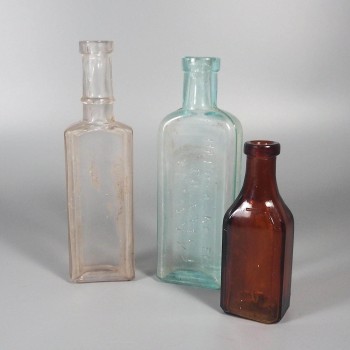 A lot of 3 antique (possibly vintage) glass medicinal bottles in three heights and colors.
The tallest bottle is 5-7/8 inch tall, and thin at approx. 5/8 inch wide. The sides are inset / receded, one feeling more so that the other. This bottle appears to be unmarked as to maker, as I find nothing on either of the four side panels and what may be a "1" on the underside. (At first glance, I thought it may be a vertical seam, but after studying it a bit more, I'm less certain.)
The next tallest bottle is a light aqua, standing 5-7/16 inch tall and 1 inch thick. The front panel is embossed with three lines that read NATIONAL REMEDY / COMPANY / NEW YORK.
The shortest (amber) bottle stands approx. 3-3/4 inch high and is embossed on the underside with BURNETT BOSTON and a "1" at the center.
All bottles are being offered as found, with a bit of dirt on the inside and some roughness to the inner edge of the aqua bottle top.
Customer Reviews
I received my mugs today and I could not be happier. Packaged with great care, lovely card to say thank you, and all intact. They are better than expected, with the size I really wanted, thinner rim for sipping coffee and hot chocolate. I really have a thing for pottery mugs and these are great quality and wonderful drip glaze. Flashback Alley owner Holly is wonderful to work with, great communication, extra service all along. Thank you again! I love them.
Seller was very nice and helped me through the registration and purchase process. Love the product and arrived quickly. Thank you!
The packages of Royal Doulton tea cups and dinner plates arrived in perfect condition. I could not be happier with the merchandise. Holly is personable and cares about the quality of the product as well as the packaging. Holly is a pleasure to work with and I will be shopping at Flashback Alley in the future. I'm so glad I found Flashback Alley!