Die Cut Hallmark Deer Brother Vintage Christmas Greeting Card - Unused
Adorable vintage die cut Hallmark Christmas greeting card depicting the cutest of young reindeer, with the spotted fawn sporting little golden antler knobs atop his head. Around his neck is an evergreen Christmas wreath with a variety of colorful holiday ornaments. The top-folding card reads "Hi, Brother!" above his head, with the inside greeting of:
Wishing you a Christmas
That is happy all day through,
Because it's so much fun to have
A brother as nice as you!
MERRY CHRISTMAS!
Card measures 5-1/2" long, 4" wide, and comes with its original envelope, all in excellent condition. Card is marked/numbered 10X 546-2Y / Hallmark Cards Inc.
This Item Ships for FREE!
Brand: Hallmark
Product Code:

02803

Availability:

1
Proud member of the Your Vintage Friends community!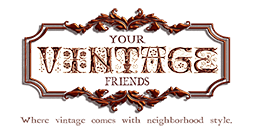 I strive to be:
* Thorough in reviewing condition
* Competitive in pricing
* Fair with shipping costs
Have any questions or concerns? Message me here!
Tags: 1950s, Christmas, Vintage Greeting Cards
Customer Reviews
I received my mugs today and I could not be happier. Packaged with great care, lovely card to say thank you, and all intact. They are better than expected, with the size I really wanted, thinner rim for sipping coffee and hot chocolate. I really have a thing for pottery mugs and these are great quality and wonderful drip glaze. Flashback Alley owner Holly is wonderful to work with, great communication, extra service all along. Thank you again! I love them.
- Shelly (11-08-18)
Seller was very nice and helped me through the registration and purchase process. Love the product and arrived quickly. Thank you!
- Sharon DeQuasie (08-29-18)
The packages of Royal Doulton tea cups and dinner plates arrived in perfect condition. I could not be happier with the merchandise. Holly is personable and cares about the quality of the product as well as the packaging. Holly is a pleasure to work with and I will be shopping at Flashback Alley in the future. I'm so glad I found Flashback Alley!
- Susan (08-22-18)