1950s Vintage Antonio Pineda Bracelet 970 Sterling Silver Taxco Mexico
For those who love vintage Mexican silver jewelry, a striking 1950s Antonio Pineda bracelet in a ball and plus design and made of 970 sterling silver in the Taxco region of Mexico. This hand wrought link bracelet from this highly collected modernist silversmith is featured in the Art Moderne - Machine Age Influence in the "William Spratling And The Mexican Silver Renaissance" book. The silver cross links are enhanced by eight dark green bead stones that appear to be jade, each pin set at the center of silver plus or cross designs. (In my research, I've found a pair of Antonio Pineda cufflinks with the same green bead listed as aventurine quartz.)
This bracelet is hand crafted in 970 silver, a silver gauge heavier than 925 sterling silver. Measures approx. 7 inch long and 7/8 inch wide across the plus in each link, with each bead measuring approx. 10mm in size. Closure consists of a box clasp, with extra security provided by the safety chain. Weight is 113.2 grams (approaching 1/4 lb!)
Fully hallmarked with the Antonio Taxco crown hallmark, 970 for the silver fineness, and Pineda's Taxco eagle mark (one of various assigned to him), illegible but appears to be 208.
A name that is synonymous with coveted collectible Mexican modernist silver jewelry, Antonio Pineda rose to fame in the late 1940s and 1950s, becoming one of the leading silversmith designers from the Taxco region of Mexico during the Mexican silver renaissance.
For those who love vintage Mexican silver bracelets, this one will make your heart flutter!
A NOTE ON SHIPPING: This bracelet will ship via USPS Priority Mail service, with signature required upon delivery.
Proud member of the Your Vintage Friends community!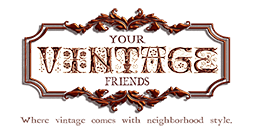 I strive to be:
* Thorough in reviewing condition
* Competitive in pricing
* Fair with shipping costs
Have any questions or concerns? Message me here!
Tags: 1950s, Mexican Silver, Silver