19 Cat's Eye Marble King Vintage Marbles in Original Unopened Bag
Welcome! If you're new to Flashback Alley....
You can find some of my shop items offered elsewhere (such as Etsy and eBay).
But my best prices are right here on Flashback Alley.
And, as an added BONUS ....
Preferred Customer subscribers receive a discount on each and every order!
For your vintage marble collection, a set of 19 multi-colored cat's eye Marble King vintage marbles, with colors of blue, yellow, green, peachy orange and white. This set of Marble King cat eyes is believed to date to around the 1960s, still in the original unopened bag. The bag label indicates that the "bag includes shooter 319-CE," however, all 19 marbles appear to be of the same size (16mm). The bag plastic has dulled with age and there is one corner with a few snags, but no indication this bag has ever been opened.
Avid collectors will find other vintage marbles featured below.
Marbles ship for FREE!
Proud member of the Your Vintage Friends community!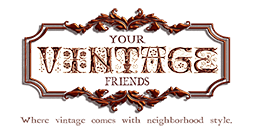 I strive to be:
* Thorough in reviewing condition
* Competitive in pricing
* Fair with shipping costs
Have any questions or concerns? Message me here!
Customer Reviews
I received my mugs today and I could not be happier. Packaged with great care, lovely card to say thank you, and all intact. They are better than expected, with the size I really wanted, thinner rim for sipping coffee and hot chocolate. I really have a thing for pottery mugs and these are great quality and wonderful drip glaze. Flashback Alley owner Holly is wonderful to work with, great communication, extra service all along. Thank you again! I love them.
- Shelly (11-08-18)
Seller was very nice and helped me through the registration and purchase process. Love the product and arrived quickly. Thank you!
- Sharon DeQuasie (08-29-18)
The packages of Royal Doulton tea cups and dinner plates arrived in perfect condition. I could not be happier with the merchandise. Holly is personable and cares about the quality of the product as well as the packaging. Holly is a pleasure to work with and I will be shopping at Flashback Alley in the future. I'm so glad I found Flashback Alley!
- Susan (08-22-18)